Types of Gadgets for Communication
Computer World Blog, 2 years ago
6 min

read
292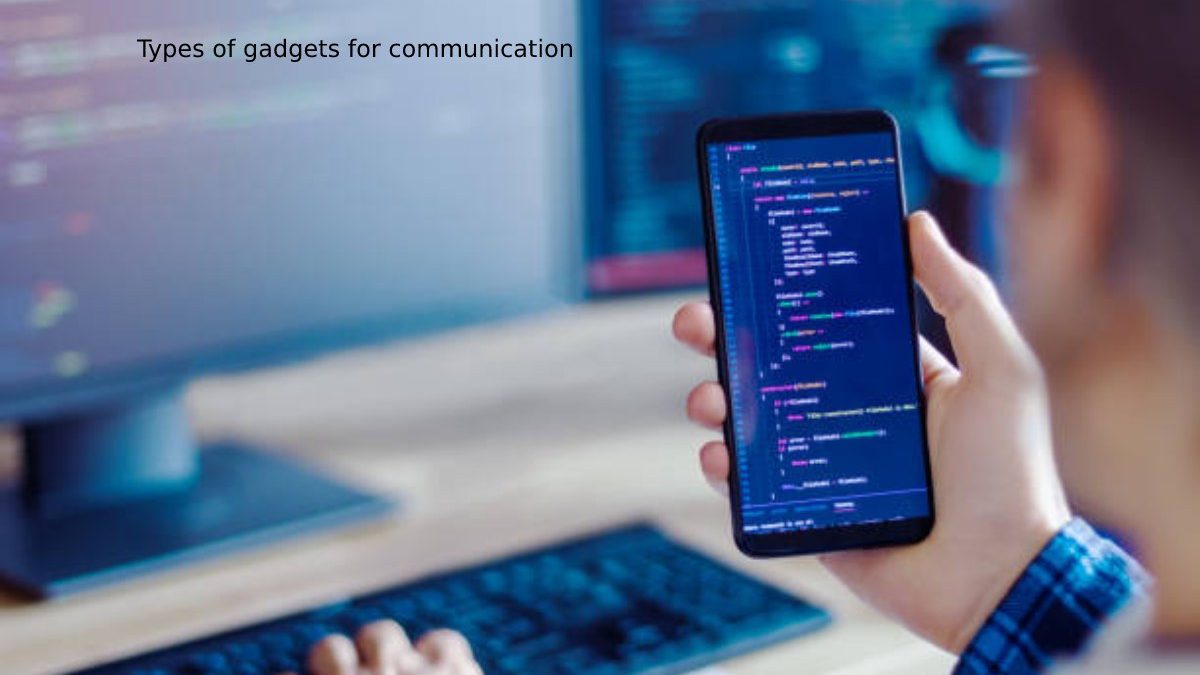 Types of Gadgets for Communication – Smart gadgets are small technological devices that fulfill specific functions. They tend to be more ingenious in design than current technology. Some examples of the most common clever gadgets could be smartphones, remote controls, iPods, calculators, watches, etc. In computing, the term gadget refers to «software gadgets,» or what is the same, «mini-applications» designed to disseminate information and improve some applications or services of a computer.
Types of smart gadgets
Virtual and augmented reality gadgets Two types of gadgets included in this category: Virtual reality headsets and augmented reality sunglasses. At the moment, its function is oriented to consumer entertainment.
Spy Gadgets
Spy gadgets are varied, and they include devices such as hidden cameras, night photography cameras, and motion sensors. Generally, its use is intended for surveillance premises, homes, and businesses.
Smart Watches
One of the most thrilling novelties in recent years. Smartwatches are beneficial devices. They allow us to receive notifications from our smartphones and phone calls and respond to SMS, email, and WhatsApp messages.
Gaming Gadgets
This category includes gadgets such as audio amplifiers, headphones, controls, surround speakers, microphones, cameras, keyboards, and even unique clothing to entertain and make the player feel part of the video game.
Health Gadgets
There is no doubt that we can improve our quality of life with health gadgets. They help us, above all, to stay in shape. In this category, we can include the so-called " wearable " exercise bracelets or bands, which allow us to monitor our physical condition and receive advice to improve our health.
Software Gadgets (Mini apps or Desktop Widgets)
This type of gadgets can use on many Internet platforms to provide us with information that can be useful when browsing particular websites. for example, weather conditions, time, etc.
In the world of technology, the concept of a gadget is trendy and used entirely in the industry, from the media to companies that develop goods. However, the most common definition of a gadget refers to a device with a specific purpose or function.
But, although a gadget commonly refers to an electronic device, there are also desktop gadgets, which are small applications with a specific purpose. However, in order not to complicate the concepts, these desktop gadgets are the same as widgets.
So what is a Gadget for?
Every gadget is intended to serve a purpose depending on the user, and all branches of technological products have devices.
Video cameras, surveillance cameras, headphones, screens, smartphones, computers, printers, computing accessories, intelligent speakers, microphones, video game consoles, and smart home devices are all gadgets.
An audio gadget can listen to music, whether in high definition, via Bluetooth, or headphones. A video game gadget can be from a control to a console; both are used to play games, but they have different purposes.
The simplest and most romantic definition of the operation of a gadget is that they serve so that you can enjoy technology, regardless of whether it is old or innovative technology. Therefore, if the product fulfills its purpose, it is a technological gadget.
What are they?
A Gadget is a device that has a specific purpose and function, generally of small proportions, practical, and at the same time innovative. Gadgets often have a more ingenious design than standard technology.
Some examples
Many small technological devices can be considered gadgets, such as mobile phones, remote controls, iPods, PDAs, calculators, watches, etc.
Google also has its sidebar with many (virtual) gadgets that can use with the Windows XP, Windows Vista, Mac, and GNU Linux operating systems.
The pen (mechanical pencil), the wrench, the comb, the fork, among many others,
the Mini clip Recorder
soldier-gadget-freelancer's called soldier Tap and can be worn as a lapel pin. But the best thing is the simplicity of its operation. Just touch it and start talking for the device to record the audio and the GPS coordinates where you are. As soon as the device connects via Bluetooth with the Smartphone or the cloud, the recording will starts downloading automatically. Very useful for doing interviews. Watch out for the speakers! This recorder is conducive to elevator conversations and off-the-record.
Call Recorder
details gadgets-freelance Another 'gadget' that can help a journalist a lot in his work is Recap S2,  a phone call recorder. Gone are the days of non-stop taking notes while doing an interview on the phone or putting the writer attached to the earpiece. Recap directly records phone calls on the computer locally. It can used for both incoming and outgoing calls and is compatible with almost all latest-generation phones.
Pocket Printer
A tool that can useful for those journalists who forget their accreditations or tickets that are still require on paper or are simply journalists with other skills. It connects wirelessly with the iPhone and allows you to print web pages, emails, photos, and texts directly. We can also get an iPhone screen printer or pocket printer for the phone to have the complete pack.
Solar Backpack
This solar backpack allows you to plug in practically all kinds of devices since it comes with all sorts of cables and adapters, and, in addition, it is ecological. The backpack itself can  recharged in the stream, in car and, of course, from the sun. And if we equipped with so many electrical devices, what better way backpack-solar-gadget-freelance be sure of being able to use them all than to carry a battery to spare to keep them active.
The Purpose of Gadgets in a Company
When we talk about a gadget, we talk about a physical tool favouring man-tech interaction more dynamically. An example of this is wireless headphones, Bluetooth speakers, and a smartwatch.
Thanks to its design, people can overcome inevitable frictions in the daily use of other devices. In case of hearing aids, it is no longer necessary to anchored to the source where you store the audio; you are not tied or limit to a cable. Technology has advanced to lighten connectivity, thus generate a more efficient connection, so even a few meters from your Smartphone or PC, you can still make calls without problems.
Best Gadgets for the Marketing
The proliferation of accessories that help speed up the interaction with electronic devices and new technologies is rising. Indeed, gadgets for marketing are not the only application of these tools. Still, it is a fact that any company that recognizes the value of using these devices can create a more dynamic way of promoting itself.
Conclusion
A message device is a hardware device capable of conveying an analog or digital signal over the telephone, other communication wire, or wirelessly.
Related posts